Tariff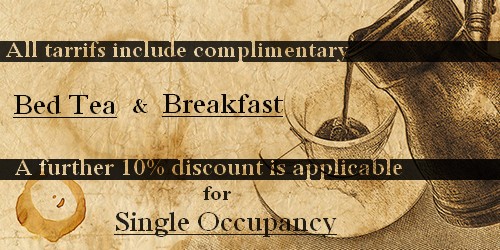 Terms and Conditions
No charge for children below 5 years (No extra bed or breakfast).
Reservations are only confirmed on receipt of advance equivalent to 50 % of total charges.
Advances are non-refundable on cancellation or non-arrival of guests.
Postponements or Advancements of a booking date will be treated as a cancellation and normal reservation and cancellation terms will apply.
24 hours' notice is required for early checkout. In the event of early check out without 24 hours' notice, one additional night will be charged.
There is no reduction in the package rates if facilities are used or not.
Advance payments to be made by depositing a cheque / cash or making an online transfer to our Account in HDFC Bank, Darjeeling.
GST will be applicable on the tariff. We do not apply service charge.
Check In time is 1:00 PM & Check Out time is 12 noon.
We accept Mastercard, Visa, Maestro and American Express cards.
Tariff is subject to change without notification.
Snowlion Homestay accepts no liability for cancellations, delays or changes that are caused by war, threat of war, airport closures, civil strife, industrial action, natural disasters, loss of or damage to any personal property of the guests.